Bundle Of Joy
Doulas
Contact
:
Sara
Weimers
Biographical Info
Sara Weimers, LMT offers Infant Massage Classes.
Experience the joy, confidence, bonding, and many other benefits of infant massage. Studies have shown that this 5 week course can help with post pardum depression, confidence in parenting decisions, increased cognitive function, and overall health of baby and parents. Some other benefits include:
Sleep Improvement
Colic/Gas Relief
Improved Communication
Teething Pain Relief
Better Circulation
As a massage therapist of over 18 years, mom, and community educator, I love empowering parents with confidence and seeing the magic that happens in my classes.
High Desert Chiropractic
Contact
:
Dr. Brandi & Dr. Joshua
Kuhn
Biographical Info
Dr. Brandi Kuhn grew up in Calgary, Alberta, Canada and attended pre-medicine at the University of Calgary.  Personally receiving chiropractic care from the age of twelve with great benefit, natural health care had been a long time chosen career path.  Western States Chiropractic College brought her to Oregon.  Following graduation in 1999 Dr. Brandi practiced in NE Portland and 2 years later decided the snow of central Oregon was calling..
Dr. Joshua Kuhn received his undergraduate schooling at Southern Illinois University. With a long time desire to move out West he decided to attend Western States Chiropractic College in Portland not just for their location, but the superior curriculum. As an active mountain biker, snowboarder, and soccer player it was natural for him to be involved with sports medicine. He had served for three years as a volunteer national ski patroller at Mt. Bachelor and has treated many world class athletes as well as weekend warriors. Dr. Kuhn has studied under different mentors in order to receive a more well rounded education. Some of his areas of continued education include the TMJ, Gonstead technique, chiropractic biophysics, and motor vehicle injury assessment. Now Dr. Kuhn has had the privilege of passing on some of his clinical experience by mentoring senior chiropractic students as interns through an associate faculty position from his alma mater WSCC. There were many reasons Bend, OR was the perfect place for Dr. Josh. When not in the wilderness biking or snowboarding you might also find him playing with his little two little girls at their favorite park.
Kimimi Healing Arts
Bodywork
Contact
:
Terie
Sandusky
Biographical Info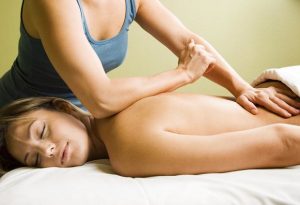 Terie Sandusky is a LMT & Reiki Master with 20 years experience specializing in Deep Tissue Massage, Traditional Fire Cupping, Fertility Acupressure,Acutonics, Prenatal Massage and Tibetan Sound Healing. She also offers Feng Shui Space Clearing, Astrology & I-Ching readings as part of her Healing Arts practice. Try an Infrared Biomat during your Massage. Acutonics is Acupuncture without needles!
Mindful Healing
Massage
Contact
:
Sherry
Tran
Biographical Info
I started studying Bowen Therapy 11 years to be a prepared parent with active kids. Little did I know how powerful it is. In the past few years, I'm seeing more cases for anxiety, injuries, headaches, stress, pre and post surgeries. I have worked with clients as little as a day old to well into their 80s. With the combined healing of Aroma Acupoint Therapy, these healing sessions empower my clients to heal from within. I am a full-time mom to 3 teens. I bring balance to my healing practice with dance, wushu, taiji, aerial silks, teaching, and watching people shine. You can find more information at http://www.mindfulhealing,info or you can call/text me at 541-633-5160.