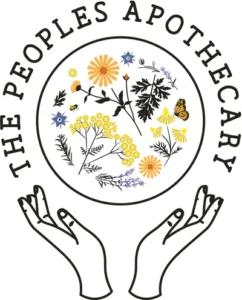 The People's Apothecary stocks organic herbs, tinctures, teas and herbal medicine. Support this local Bend Small Business.
We are a Naturopathic Doctor owned, modern apothecary, located in Central Oregon. We stock over 300 organic bulk herbs as well as 30 house-blended teas. With mindfully curated natural products for health and home, our mission is to make plant medicine accessible and fun for all.
https://thepeoplesapothecary.net
Dr. Ashley discovered Naturopathic medicine while studying plant medicine at Dancing Willow Herbs in Durango, Colorado. Prior to attending the National University of Natural Medicine (NUNM), in Portland, Oregon, Dr. Ashley worked as an educator, organic farmer, and herbalist in the Adirondack Mountains in New York State and in the San Juan Mountains of SW Colorado for over 10 years.  It was in addition to these experiences and her love for the environment, combined with her curiosity for the plant world and all-things-wild that Dr. Ashley came to Naturopathic Medicine.
While attending NUNM, Dr. Ashley received her certification from the New England School of Homeopathy (NESH). She also holds a certificate in Myofascial Release and Visceral Manipulation from Moving Mountain Institute. Prior to medical school, Dr. Ashley completed a 3-month residential native medicinal plant internship with United Plant Savers in Ohio and a 10-month herbal and botanical internship with clinical herbalist Elise Krohn.
Dr. Ashley also had the distinct honor to study with herbalist and environmental activist Cascade Anderson-Geller in Portland, Oregon prior to her passing. Other herbalists who Dr. Ashley has also had the privilege of studying with include, but are not limited to, Dr. Deborah Frances, Dr. Jillian Stansbury, Paul Bergner, Scott Kloss, Gradey Proctor, and Dr. Glen Nagel.