541 Esthetics
Contact
:
Molly
Home Phone
:
541.977.1252
home
Biographical Info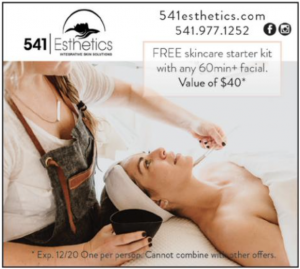 Renewed Skincare
Skincare
Contact
:
Katy
Henneman LAE CLT
Biographical Info
Renewed Skin Care is located on the Deschutes River at Riverside Wellness. Renewed Skin Care is about being relaxed, rejuvenated, and renewed. Taking skin health to a whole new level with Micro-Needling. Also offering natural and medical grade products to effectively treat your skin to look better than it ever has before. I believe everyone's skin and beliefs are different and want to help guide you on finding the right fit for you on skincare. I have a passion and desire to move people into green, clean, non toxic products that work. Also educating you that clear glowing skin comes from with-in.
Sher_Ray Organic Skincare
Skincare
Contact
:
Sher-Ray
Skincare
Biographical Info
Yerba Buena Aesthetics is a results oriented skincare studio offering a holistic approach addressing acne, hyperpigmentation, rosacea, and aging skin. Services are provided by Esthetician Reina Hernandez and include Therapeutic Facials, Clinical Facials, Microdermabrasion, Dermaplaning and Skin Peels.