BEND HEALTH GUIDE® established the original
 Health Fair in Bend, Oregon in 2017.
We had to cancel our planned May 2020 Health Fair  because of Covid lockdowns. In 2021 & 2022 we polled our 8,500 Email Newsletter list to ask if we should return to having Health Fairs & the overwhelming answer was not unit FALL 2023, so this is our FIRST HEALTH FAIR since MAY 2019 when we had our Health Fair at Holinshead, watch the Youtube below to see.
🍁 

Kevin Kraft of Soundshala Wellness with Kat Rose & friends will perform an Opening Ceremony Gong Soundbath for the Fall Equinox that provides an opportunity for a deep reset moving into this season.

🍁 

Keynote Speaker Carolyn Black from Oregon Marketplace will talk about changes to Oregon Health Plans. She will also be available at their booth to answer questions you may have about your Health Plan.

🍁 

Jeanette Small of Lucid Cradle one of the first Licensed Psilocybin Therapist in Oregon will talk about her Psilocybin Therapeutic Services offered and the healing process that can occur with this innovative Therapy.

🧚 

Fairies of Glinwood FAE will entertain the kids in our Family Forest

🍁 

Bend Urban Gardens who will have a demo garden complete with worm bin!

🍁 Pete Kartsounes will play Music in the Afternoon



HANDS on HEALINGS PROVIDED BY
All performances & speakers will be filmed for our YOUTUBE Channel with 1,000's of local Bend Viewers so your exposure just keeps going long after the Health Fair is over!
Bend Health Guide started hosting Health Fairs in Bend in 2017, we held it annually until 2020 when lockdowns forced us to cancel sadly. We surveyed 1,000s of our readers by Email to find out when the perfect time to bring it back would be, your response was Fall 2023!
Vendor Booths are available, email Terie at bendhealthguide@gmail.com to reserve yours today.
Saturday 09/23/2023
UUFCO Unitarian
61980 Skyline Ranch Rd, Bend, OR 97703UUFCO
Vendor Booths:
BHG MEMBERS $333.00
Non Members $485.00
Thank YOU to these SPONSORS & VENDORS who have signed up so far, look for these Sponsors in our Booklets in Swag Bags & all around the fair.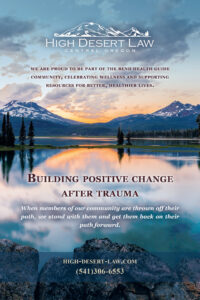 Oregonhealthcare.gov
High Desert Law
LIFEFLIGHT Medical Helicopters
EVOKE Healing Space
Roots at Heart Nutrition
HALO Hyperbaric Oxygen Therapy
Elk Ridge Chiropractic
Kitchen Heartbeets will be serving food!
Teka Tiger Foodtruck will also be serving food



FOLLOW our SOCIAL MEDIA to see more VENDORS & Performers announced!!!
Thank You to our Sponsors & Participants in our 2023 Bend Health Fair
Tickets are required so that we don't go over capacity with people.
Every ticket enters you to WIN in our RAFFLE PRIZES!!!
We are FILLING UP QUICKLY!!!