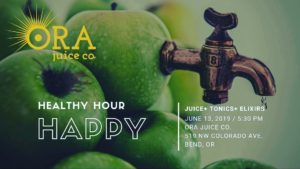 Join Us for our Healthy Happy Hours this Summer!
Thursday, June 13th 5:30-7:30 pm at ORA JUICE Co
519 NW Colorado ave, Bend, OR 97703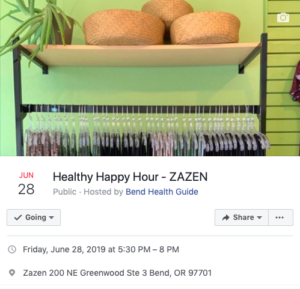 Friday June 27th, 5:30-8pm ZAZEN Dress Shop
200 NE Greenwood, ste 3, Bend, OR 97701
Retail Therapy, Water Kefir Drinks, plus Beauty by Deanna Dewitt & the magical BEMER Chair with Elizabeth Wing. Try on a dress & freshen your face then have your PHOTO taken my our BHG Photographer Bill!
Saturday, July 20th 5pm-7:30pm at AOS Skincare 838 NW Bond St.,
Bend, OR
Join us for Healthy Herbal Infusions created by Angelina of Aos Skincare & check out their beautiful new SPA upstairs! Susan Harman will be playing her beautiful, original music! Great way to make healthy new friends, network & connect with the Bend Health Group!
Last Healthy Happy Hour of SUMMER 2019 is 8/13/19 at Bevel Brewing located in the 9th Street Makers District Aka DIY Cave Aka Bright Place Gallery at 444 SE 9th St #150, Bend, OR 97702