Our first Spring Event will be a gathering for BHG Members on March 12th at
Hanai in Bend, Oregon.
Join us for a day of connection.  Tea will be provided by The People's Apothecary along with some healthy snacks. Sirah of EZRA Elya Healing will be offering a Crystal Singing Bowl experience you will not want to miss!If you are Bend Health Guide Member, meaning you have advertised in our past issue or signed up for Spring, you should have received an EVITE for this Event. If you did not, please let me know.  I look forward to seeing so many healthy friends, old & new on Saturday March 12th! We hope to host more community events this Spring, stay tuned & sign up for our Email Newsletter to stay in the know!
Remember to support all of our SPONSORS & ADVERTISERS by using these incredible WELLNESS COUPONS soon before they EXPIRE!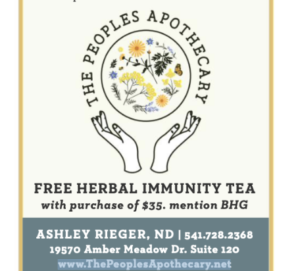 We featured HANAI Event Center in our Fall 2021 Bend Health Guide & you can learn more about this magnificent space here: