BHG SUBSCRIPTION BOXES $88!!!
This issue we are delighted to feature some of our favorite, local Bend businesses in a Subscription Box for just $88 you get all of these locally made products! Plus,
 

you Support our mission as this is one of our Direct Mail Fundraisers!
Thank you Community for the Win Win!
We only have
25 Boxes
to sell, so order yours quick, only available in BEND!!!
Order yours & we will deliver all this goodness to you,
$185 Value for only $88 plus support Local Bend & BHG!!! 
Blue Water Bottle 
Bohemian Roastery Coffee
Broadus Bees Honey
Deschutes Land Trust Milkweed Seeds
Earthie Mama Bug Spray
Gorilla Greens Microgreens delivered to your door
Reuseable BHG Grocery Sack
Little Seed Farms Deodorant
Lotus Naturals Body Butter Tins
Megan Myers Camping LOG
Peoples Apothecary Sun Teas
Royal Juice Company Tinctures
Blue Bottle for Sacred Water
When I studied Loku Lomi Massage, I was taught by a Kahuna in ho'oponopono sacred water traditions. We learned to put water in blue bottles in the Sun for 24 hours to create Solar water or to place blue bottle of water on our window sills the night of a Full Moon to create Moon Water. It was believed drinking these solar or lunar charged waters could remove dark spots from your soul, cleansing your energetic vibration. I am often asked by my clients where to get these magical blue bottles, so I decided to donate them to our boxes. kimimihealingarts.com 
Bohemian Roastery
 Wood Fired Coffee 
We had getting out in nature & camping in mind when we created this Subscription box, so of course you will need Camp Coffee & my favorite is Bohemian Roastery, BoRo is a family run wood-fire coffee roasting company in Bend. Each member of our family contributes to the daily function and operation of this exciting business. We all take pride in being able to provide a high quality coffee experience without using petroleum generated heat, as used by most commercial roasters. Our one of a kind roaster was designed and built as a family project making BoRo one of only a few committed roasters in the U.S. using this ancient and proven method. To roast using only select hard woods produces a gentle, moist heat that allows the oils and flavors to develop at a slower rate, this eliminates the bitter after taste that over powers the flavor of a quality bean. Bohemian Roastery only sources beans directly from socially and environmentally responsible farmers growing in the finest coffee producing regions of the world. bohemianroastery.com 
Broadus Bees Local Honey
My name is James Broadus Wilkie V, and this is where the name of my company came from. I first became obsessed with honey bees when I was studying wildlife biology at Western Colorado University.  While working with bees and studying them I was fascinated by how they live and function as these amazing and fascinating creatures.  I quickly realized their importance to agriculture and the critical role they play in our food system.  Honey bees are responsible for 1/3 of every bite we eat.  To me, that is very important, and in 2004, right before I started college, I found out about Colony Collapse Disorder and how massive amounts of honey bees were dying in such a short period of time.  I then knew exactly what I wanted to study in college and graduated with a wildlife Biology degree.  Also, when working with the bees I noticed how therapeutic it was being out there in the bee yard with them.  The constant low humming sound coming from their vibrating wings somehow calmed me and allowed me to step out of reality and become one with nature submersing myself in the needs of the honey bees. Helping them flourish is all I now cared about then and all I care about now.  Giving back to the bees is my responsibility.  Giving back to the very creature that allows us to live and eat the things we eat when we want to eat them is what I will always want to do with my life.   I am originally from Atlanta, but have been beekeeping for 12 years in North Carolina before moving to Bend, Oregon. I moved here in October of 2018 to be with my fiancé, Nikki Finley, I had recently met through mutual friends. I packed up all my stuff and moved across the country to start a new life and get a fresh start.  Everything happened so intentionally and fell into place so easily, I new I was destined to be with her for the rest of my life. I started Broadus Bees in June of 2019 at the same time we had Delilah June Wilkie on June 1st. I have 2 groups of bees that I manage in Bend, Oregon. That is where the Bend Wildflower, High Desert Buckwheat honey, and the Bend Bee Pollen come from. I also have other varietals of honey that come from Medford Oregon like the whipped Raw White Clover and the Oregon Blueberry. We have our soap made by Lots of Suds, a local Bend soap-maker, from our Bend Wildflower honey. The lip balm we hand-make in our kitchen.  
Deschutes Land Trust Milkweed Seeds
MILKWEED SEEDS
Last year Deschutes Land Trust launched a Monarch Butterfly Conservation Program. They have distributed over 80,000 Milkweed Seeds since then & they generously gave us some seeds for our Subscription Boxes! They have been working diligently to plant milkweed all over Central Oregon including at Bend Parks & in the Old Mill District. Invite Monarchs in your own backyard when you plant these Showy Milkweed seeds with big beautiful blossoms that bloom all Summer long.
Deschuteslandtrust.org
GORILLA GREENS MICROGREENS
Delivered Fresh to your door!!! 
Eating Healthier with Home Delivery 
Wheatgrass and Microgreens can be 40x more nutrient dense than mature plants with stunning colors and intense flavors. We only grow organic and heirloom seeds in healthy soil.  You will receive $20 Worth of Greens of your choice delivered fresh to your door with this Box!!!
Megan Myers Camping LOG
This 5 1/2″ x 7″ camping log is a great companion for the adventurous spirit and avid camper! It is a perfect size to keep in your glove-box or knapsack so you can add notes about your campouts. Each spread features an information page and a blank page for notes and journal entries. There's 30 entries to fill in specific information about each of your campouts during the year. This allows you to track practical information about weather conditions, campground offerings, and nearby sites so you can reference it again and again when you want to recall your favorite camp spots! In the back there's 4 beautiful full-color post-cards to be torn out along a perforated line and sent to friends and family during your adventures. The front of each postcard has a customizable greeting, "hello from beautiful…"
I've always been a note-taker and I love the romance of hand-written journaling and information gathering. The real inspiration for this log came when a friend of mine came across her grandmother's camping journals from the 80's, and she discovered many lovely snippets of her grandmother's travels. I loved the idea that she had uncovered enough information to actually retrace her grandmother's steps.
Lotus Naturals Body Butter
Cinnamon Frankincense Body Balms in a travel tin
These little guys are a rough skin life saver- great for chapped hands, feet, lips and everything in between. They are made with 100% pure essential oils and other all natural ingredients. 
Frankincense and Cinnamon Body Butter in a Tin. Cinnamon has anti-inflammatory properties & Frankicense reduces the appearance of wrinkles and skin imperfections such as discoloration  This blend is great for healing, smells so good you want to eat it!  Beeswax, Shea butter, vitamin E oil, coconut oil, Frankincense and Cinnamon Essential oils
Little Seed Farms Deodorant
As a Massage Therapist, I am always looking for a Deodorant that is powerful enough to keep me fresh but also is natural & sustainable!  
I found it at Little Seed Farms! Aluminum and baking soda-free deodorant is made from nourishing and gentle organic ingredients
Activated Charcoal, organic spearmint essential oil, organic rosemary essential oil, organic geranium essential oil.  They ship using Zero Waste methods, their deodorant comes in reusable jars or recyclable packaging. Their humanely managed goat herd is perhaps the only 100% grassfed commercial herd in the country
Peoples Apothecary Sun Teas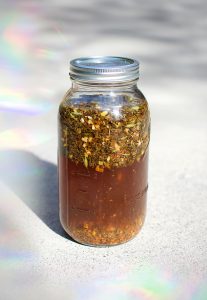 We featured Peoples Apothecary Sun Teas this issue & Katelyn was generous to donate samples of her magical, herbal combinations for your delight & enjoyment! You can also get a free sample when you spend $25 at her store with her Wellness Coupon! 
Reusable BHG Logo Grocery Bag
ROYAL JUICE COMPANY
Receive a Bottle of Juice delivered to your door & a super special OFFER for discounts on future orders! 
Juice delivered fresh to you! 
Royal Juice Company was founded  by Sam Royal as a juicing delivery service company offering FREE DELIVERY (Bend customers only) with every juice order. We use organic produce grown by Central Oregon farmers to make our juice as fresh as possible with no added sugars or preservatives. Sam Royal is a trained herbalist and has formulated all of the herbal medicine products along with the juice recipes. We offer full spectrum plant medicine in a multitude of forms so there is something available for every-body. Royal Juice Company was founded with the intention of providing healing plant medicine in ways that are approachable, effective and safe for human consumption.
LOOK for many of these wonderful Local, Bend Businesses at our Health Fair this Fall, 10/24/20202 at
Unitarian Church on Skyliners!!!
Thank you for supporting Local Bend Businesses!!!